Smile Makeover in San Juan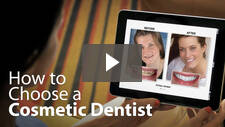 Ready to get a smile makeover? A beautiful smile can captivate a room, but unfortunately a flawed smile can also attract attention.  Although some patients can enhance their appearance with relatively simple procedures such as teeth whitening, other patients require more extensive treatment to achieve a winning smile. At Durán & Martínez Cosmetic and Reconstructive Dentistry, Dr. Durán is pleased to offer comprehensive treatment plans, including smile makeovers, to patients who wish to undergo several cosmetic treatments to restore their appearance. Learn more about smile makeovers in San Juan, Puerto Rico below, and contact the practice at 787-754-2270 to schedule a consultation.
What Is a Smile Makeover?
A smile makeover refers to a series of cosmetic dentistry treatments that are designed to enhance a patient's smile as well as bring balance to their facial features. A smile makeover is an elective procedure, rather than a medically or functionally necessary procedure like full mouth reconstruction. The treatment can address a number of aesthetic issues related to the mouth, including tooth discoloration, uneven spacing or alignment, disproportionate size of the teeth, and even an overbearing gum line.
Who Is a Candidate for a Smile Makeover?
A smile makeover is recommended when a patient is unhappy with the appearance of his or her teeth. It is important that patients seeking smile makeover treatment not have any pre-existing oral health conditions. Any instances of gum disease, gingivitis, bone deterioration or tooth decay should be addressed before cosmetic dentistry procedures are performed.
During an initial consultation, Dr. Durán performs a thorough analysis of the patient's oral health. He then works closely with the patient to determine his or her specific goals and motivations for treatment. Dr. Durán will also assess the patient's facial features to determine which dental treatments are appropriate and will produce a result that is in harmony with the rest of the face. In addition, he will address any questions or concerns to ensure that the patient feels comfortable, safe and cared for throughout the entire treatment process.
The Smile Makeover Procedure
Smile makeover involves several distinct cosmetic dentistry procedures that can take place over the course of several months. During an initial appointment, Dr. Durán devises a treatment plan in accordance with the patient's needs and aesthetic preferences. Depending on the goal of treatment, any of the following procedures may be performed.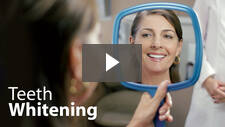 Teeth Whitening. Durán & Martínez Cosmetic and Reconstructive Dentistry offers both in-office and take-home teeth whitening treatments. Many of Dr. Durán's patients choose the at-home treatment which allows them to whiten their teeth.
Gum Re-contouring. For patients who are concerned about the appearance of a "gummy smile," Dr. Durán performs laser gum re-contouring to lessen the appearance of the gums.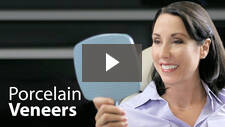 Porcelain Veneers. Porcelain veneers are made of an ultra-thin ceramic material that is placed over the teeth to cover up cosmetic imperfections such as discoloration, cracks, or uneven spacing.
Dental Crowns. Dental crowns are ceramic casings that can be used to mask imperfections in the smile such as stains or cracks. Although they are typically used for restorative dentistry purposes, they can be used during a smile makeover on teeth that are typically under more stress in the mouth.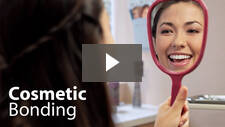 Dental Bonding is a cosmetic dentistry procedure that can help improve the appearance of minor imperfections in the teeth, such as discoloration, cracks or chips. It can also be used to replace silver fillings. During dental bonding, a tooth-colored resin is applied to the teeth to improve the appearance. Read more…
Schedule a Consultation Today
A smile makeover can completely transform the appearance of a patient's teeth, giving him or her confidence to smile more than ever before. With more than 25 years of experience in cosmetic dentistry, Dr. Ramon Durán has helped countless patients achieve the look they desire. If you are unhappy with discoloration, uneven spacing or other cosmetic issues, contact the practice today at 787-754-2270 to learn more about what a smile makeover can do for you.
Related Smile Makeover Articles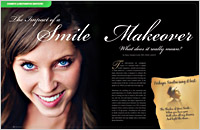 The Impact of a Smile Makeover
Americans are catching on to the emotional and social importance of a healthy, beautiful smile, and they're seeking out ways to improve their smiles. Learn why and what a change could mean for you… Read Article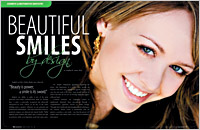 Beautiful Smiles by Design
The first in a series of articles dedicated to the "art and science" of designing a more appealing smile. One of the country's foremost leaders in cosmetic dentistry discusses how you and your dentist partner to create a great new look… Read Article