Dental Implants in San Juan, PR
Need dental implants in San Juan, PR? Tooth loss can have a number of negative effects on a patient's oral health and self-esteem. Many patients who are missing one or several teeth feel self-conscious in social situations and experience discomfort on a daily basis. At Durán and Martínez Cosmetic and Reconstructive Dentistry, we understand the physical and emotional stresses that tooth loss can bring, and we provide the very best restorative dental care to help patients restore their oral health, appearance and confidence. Dr. Ramon Durán has more than 25 years of experience, as well as thorough training in implant dentistry. He is proud to offer dental implant restorations to his patients. Learn more about dental implants and restorations below and contact the practice at 844-208-0372 today to schedule a consultation.
What Are Dental Implants?
Dental implants are the most comprehensive solution to tooth loss currently available. In the past, patients who experienced tooth loss only had the option of dentures to restore their smile. While dentures are an effective treatment, many patients were displeased with problems such as slipping or mouth sores. Dental implants, on the other hand, are permanent, immovable structures that can help patients maintain the health and beauty of their smiles after tooth loss. A dental implant is a small titanium screw that is surgically implanted in the jawbone to act as a replacement tooth root. This provides unparalleled stability and comfort. After dental implants have fused to the bone, a synthetic restoration such as a dental crown is placed over the implant to provide a beautiful, natural-looking appearance. By replacing lost teeth, dental implants also prevent a number of oral health problems such as gum recession, bone deterioration and jaw misalignment. Dental implants can be placed on a single tooth, or on several teeth during a full mouth reconstruction.
Who Is a Candidate for Dental Implants?
Patients who have lost one or more of their teeth may consider dental implants to enhance the appearance of their smile and preserve their long-term oral health. Although dental implants are an advanced and highly effective treatment, they are not for everyone. In order to be a candidate for dental implants, patients must first have sufficient bone structure to support the placement of the implant. In the event that a patient does not have sufficient bone structure, an oral surgeon will perform a bone graft procedure prior to the implant placement. Patients who suffer from gum disease or gingivitis should also have this condition treated before implants are placed. Finally, it is important for dental implants candidates to understand that dental implants require strict oral hygiene; failure to follow the dentists' instructions can result in complications and other oral health issues.
During an initial consultation, Dr. Durán will perform a comprehensive analysis to determine if a patient is an ideal candidate for dental implants. This includes a thorough dental examination and evaluation of any pre-existing oral health conditions. During this time Dr. Durán explains the risks and benefits of the procedure, and encourages patients to ask any questions they may have, so that they feel safe, comfortable and cared for throughout the entire process.
The Dental Implants Procedure
Dental implants placement is a comprehensive procedure which takes place over several months and several dental appointments. The first appointment is a surgical appointment during which the titanium implants are placed in the jaw. Dr. Durán works closely with a network of experienced dental implants surgeons who can perform this phase of the procedure. This is a thorough procedure which is performed under anesthesia. After the implants have been placed, a patient must fully recover from surgery before the next step of the dental implants procedure is performed. During this time, the implant actually begins to fuse to the bone during a process known as osseointegration. Patients may have one or several follow-up visits during this period so that Dr. Durán can monitor their oral health and the healing process. Once osseointegration is complete, patients can return to Dr. Durán's San Juan dental office to have the final restorations placed on the implant. Dr. Durán will either place implant-supported dental bridges or dental crowns, depending on the patient's specific needs, to create a natural-looking smile.
Patients who undergo the dental implants procedure in Puerto Rico may experience minor pain and discomfort in the days after the initial surgery. This can be treated with pain medication as prescribed by the surgeon or Dr. Durán. It is important that patients are diligent about their oral health habits during and after dental implants have been placed. This will stave off infection and other surgical complications. When cared for properly, dental implants can last for more than 10 years.
Schedule a Consultation Today
Dental implants are an advanced solution to tooth loss that can help patients restore their oral health and the appearance of their smile. Dr. Durán is proud to offer this treatment and takes great pride in helping patients get their oral health back on track. If you have experienced tooth loss and are looking for a long-lasting solution, contact our practice today at 844-208-0372 to schedule a consultation and learn more about dental implants in Puerto Rico.
---
Related Dental Implant Articles
Dental Implants – Your Third Set of Teeth
A discovery fifty years ago paved the way for one of dentistry's most exciting, natural looking and successful tooth replacement systems. Learn how dental implants might just possibly change your life… Read Article
The Hidden Consequences of Losing Teeth
For those missing even one tooth, an unsightly gap is actually the least significant problem. What's of far greater concern is the bone loss that inevitably follows tooth loss. Dental implants fused to the jawbone can preserve bone, improve function and enhance psychological well-being. Learn how implants serve both as anchors to support replacement teeth, and preserve bone as one of the better preventive maintenance procedures in dentistry… Read Article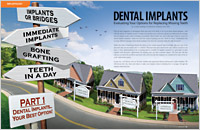 Dental Implants – Evaluating Your Options for Replacing Missing Teeth
As we guide you through the marketing hype you'll see that well planned implants most often require a team approach in assessing whether they're right for you. Not only are they a better treatment choice, they will last longer, possibly a lifetime, making them the right choice and the most cost effective option long term… Read Article
Implant Overdentures for the Lower Jaw
Implant overdentures represent a major change for the dental profession and the public. The lower jaw two-implant overdenture may be considered a more appropriate starting point over regular dentures… Read Article